JRready TH03-DWQ-01 Turret Head

1.Customized series positioner;
2. There is no need to change the positioning device for crimping different MIL standard contacts, just rotate the positioning core;
3. Suitable for company's crimping tool model XCXY (manual) & XCXY-01 (manual) .
Brand: JRready

Standard: /

Model: TH03-DWQ-01

Match Tools: XCXY, XCXY-01

Material: copper

Dimension (mm): 50.8*37.8

Internal Number: P9121 (copper)

Weight (g): 110




TH03-DWQ-01 turret positioner contains three different specifications of the positioning core, each core corresponding to the different positioning turret colors (red, yellow, blue), rotate to the right color according to the different terminal specifications.
---
Turrret positioner installing and removing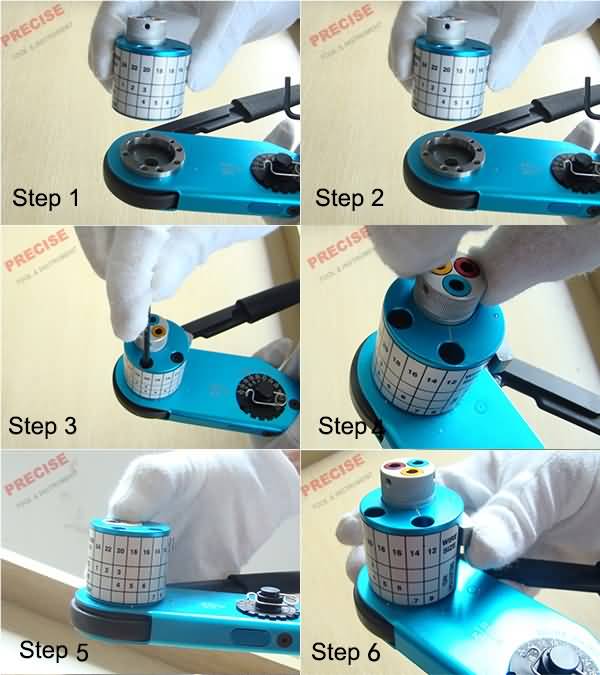 1. Keep the crimp tool in open position.
2. Press turret trigger latch which releases turret to indexing position.
3. Place selected turret head assembly onto retainer ring with socket head screws lined up with tapped holes.
4. After turret head is seated against retainer ring, tighten socket head screws.
5. Refer to data plate on turret head. From the color code column, select the positioner color that corresponds with the appropriate part number and size of contact to be crimped.
6. With tool in open position, and turret in indexing position, rotate until color coded positioner is in line with index mark. Press turret until it snaps in latched position.
7. Refer to data plate on turret head. From proper wire size column, determine the selector number that corresponds with the contact being used.
8. Remove spring clip from selector number is in line with index mark.
The company also produces the following MIL standard turret heads (Customizable)
| | | | |
| --- | --- | --- | --- |
| Number | Model | MIL standard | Compatible contacts model |
| 1 | TH1A | M22520/1-02 | MS3162&63 MS3192&93 MS18134&36 MS24254&55 MS90453&54 |
| 2 | TH163 | M22520/1-04 | MS27655 MS27490&91&92&93&94 |
| 3 | TH29-1 | / | BENDIX CONTACTS |
| 4 | TH328 | / | DEUTSCH 80016/32-1 200-16/30-3 |
| 5 | TH592 | / | AB CONNECTORS CONTACTS |
| 6 | TH493I | / | CDMA-CDFA CDMD-CDFD |
| 7 | SH462 | / | FRB CONNECTRON CONTACTS |
| 8 | TH199S | M22520/1-08 | MS3343 (A&B) MS90460 (A&B) MS90461 (A&B) |
| 9 | TH499 | / | CONTACTS BICC VERO |
| 10 | TH474 | / | DEUTSCH CONTACTS |
| 11 | TH285 | M22520/1-13 | M39012/01-0501,01-0502,01-0503,39-0501,05-0503,39-0503,02-0511,02-0512,02-0503,02-0513 |
| 12 | TH185 | / | CANNON CONTACT |
| 13 | SH463 | / | FRB CONNECTRON CONTACTS |
| 14 | TH270 | M22520/1-12 | M39012/16-0501,16-0502,16-0503,26-0501,26-0502,26-0503,17-0501,17-0502,17-0503 |
| 15 | TH452 | / | ITT CANNON CONTACTS 030-8588-XXX 031-5639-120 031-8556-XXX 031-8557-XXX 030-8586-XXX |